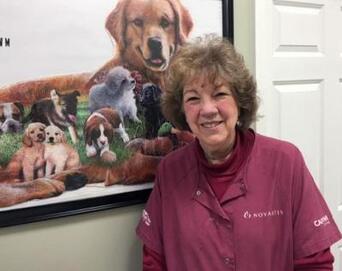 Dr. Patricia "Pat" Hoagland
Dr. Patricia "Pat" Hoagland grew up in Florida, the oldest of 5 children. She earned a Bachelor of Science degree in Math from Louisiana State University and Master of Science in Chemistry from the same University.
She married John Hoagland who was a Navy pilot and together they lived in Texas, Washington State, Japan, and California, and then returned to Illinois.
John went to work at American Airlines where he recently retired as Captain for the company, and Pat went to the University of Illinois School of Veterinary Medicine where she graduated in 1992.
Dr. Hoagland did house calls and relief work and filled in to help at other clinics before buying the Ottawa Veterinary Hospital from Dr. James Neil in 1998. She then purchased the Marseilles Veterinary Hospital from Dr. Betty Kellstrom in 2001. It has recently been sold.
In 2012 the Hoaglands purchased an office supply store at 817 Clinton St. in Ottawa, gutted the inside of the building, and built the current state of the art clinic they work from.
Besides the work she does tirelessly with her clients and emergencies brought to the hospital, Pat enjoys reading, sewing, and "getting in the dirt". The Hoaglands also have 4 cats at home and Pat considers them all "very spoiled".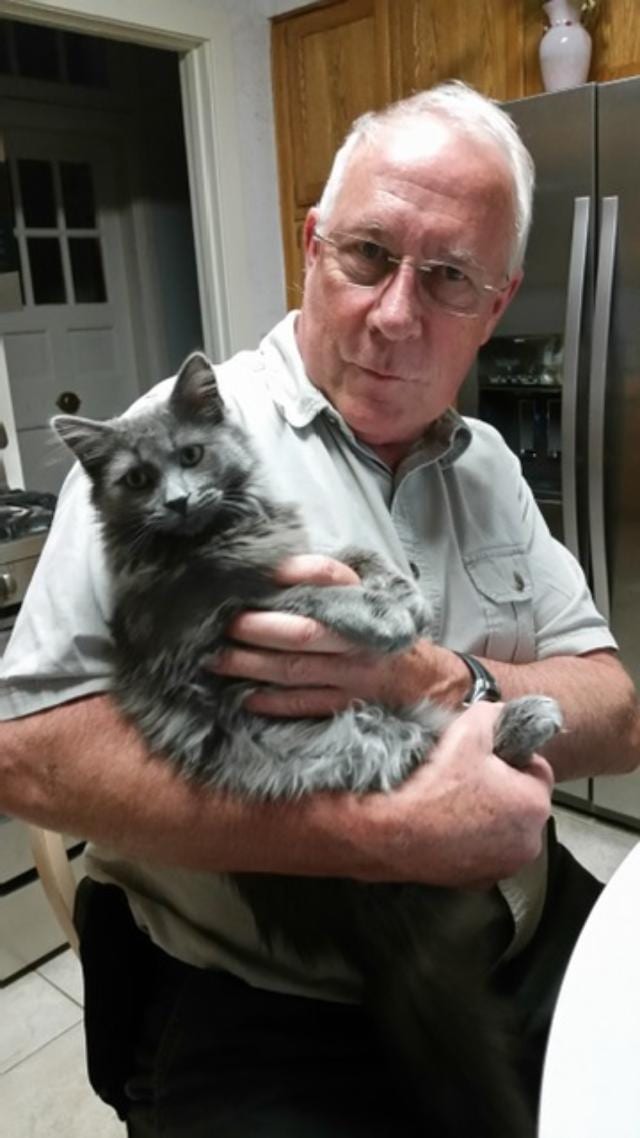 John Hoagland
John helps oversee the operations of the Ottawa Veterinary Clinic. He takes care of the business and accounting aspects of the business.
John was raised in Peoria and holds a Bachelor of Education with a Minor in Music from Louisiana State University. He was a Navy pilot and, when they returned to Illinois, John went to work at American Airlines where he recently retired as a Captain from the company.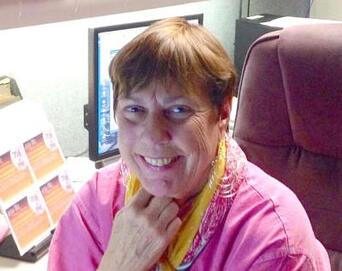 Elin Arnold-Mitchell
Elin was raised in Streator and attended the University of Illinois. She has a B.S. in Vocational and Technical Education and a M.Ed. in Guidance and Counseling. She then attended Eastern Illinois University and received an Advanced Degree in Education Administration.
She served in the field of education until returning to Tonica where her family owned the Tonica News. She purchased the Putnam County Record the next year and published these two weekly newspapers until she sold them and retired in 2012.
She has since then come to work as the Administrative Assistant for Dr. Hoagland where she handles any assignments given to her.
Elin and her husband, Larry, own 2 Airedales. "They certainly keep us busy with their antics. They are part of our family and we love them dearly!"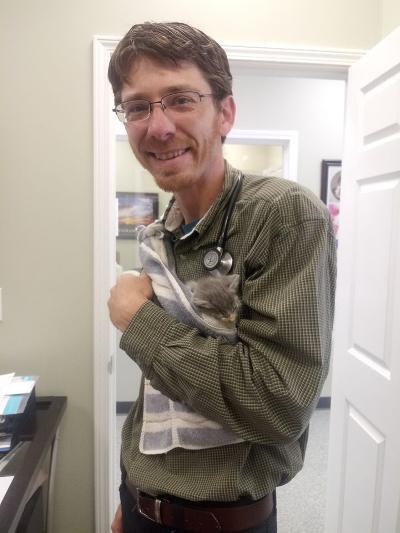 Keith Zehr, Jr.
Keith Zehr, Jr. was raised in the Ottawa area and served in the U.S. Army as a Medic. Keith has also done Medical Missions work in South America and other countries throughout the world. He currently serves as a Veterinary Assistant at OVH.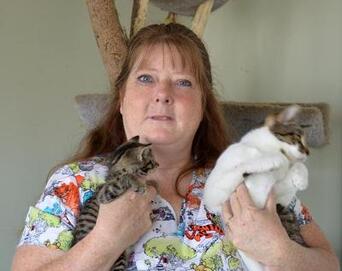 Kathy Zehr
Kathy has also been with the clinic for 10 years. She works as the Adoption Coordinator and in the kennels. The Ottawa Veterinarian Hospital is licensed by the Illinois State Department of Agriculture as a Licensed Animal Shelter.
This was due in a large part to Kathy's desire to provide this type of service to the community. "I love finding forever homes for my babies!"
Kathy coordinates the care and placement of numerous cats and occasionally a dog for the Clinic. If you are looking to adopt a pet you can call us and ask for her.
Kathy is also an animal-lover and has several pets at home. However, the light of her life is her grandchildren and she spends as much time as possible with them.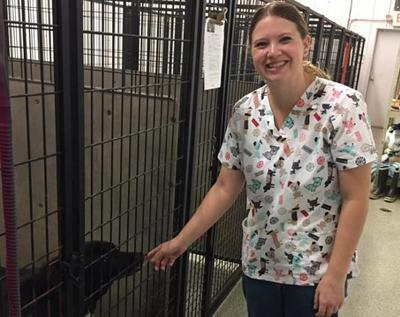 Becky Anderson
Becky graduated from Lincoln Way Central High School in New Lenox and continued her education at the University of Illinois earning a B.S. in Animal Sciences.
"Working at OVH has given me an opportunity to get more hands on experience and learn more about the techniques I learned in the classroom setting. It has given me an chance to grow more as a person and gain more confidence in my abilities."
Our competent staff is excited to serve the needs of your pets. We treat them as if they were our own. With empathy and loving kindness for their requirements.